The best players who have retired during the 2022/23 season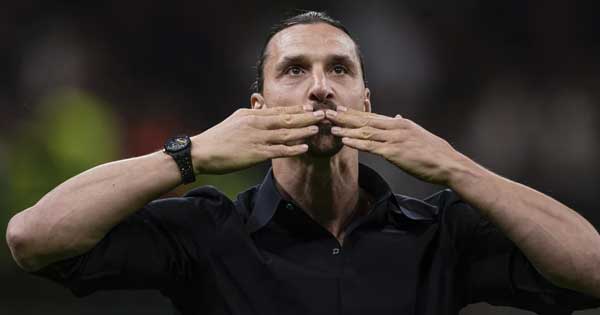 Possibly the most difficult decision any professional footballer has to make is to retire. It is when you admit that either you can no longer offer what is required of you, or you no longer want to continue practicing the sport in which you have spent your entire life immersed.
It's almost always a sad occasion, but it's also a chance for fans to celebrate the careers of players who often meant more to them than they could have imagined.
Here are the most notable players who ended their careers at the end of the 2022/23 season. Some reached a natural end point, others did not. Some hit a natural stopping point, others fell out of love with the game, and some may have gone under your radar.
ZLATAN IBRAHIMOVIC (41 YEARS OLD)
It was an emotional day at the San Siro when Zlatan Ibrahimovic retired / Jonathan Moscrop/GettyImages
Zlatan Ibrahimovic, the last big name to end his career, was a source of wonder and entertainment throughout his long career. Few players can boast of having played for as many big clubs as Ibrahimovic, and he has won trophies at all but two of his clubs.
It will always be one of the most confusing football facts that a man who has been at the top level for as long as Ibrahimovic, and who has played for the clubs Ibrahimovic has played for, has never managed to win the Champions League. In that sense, he seemed to be in the wrong place at the wrong time, but he was able to retire in front of the crowd that adores him more than anyone else at the San Siro.
ZLATAN IBRAHIMOVIC'S CAREER STATS
Games 827
Goals 496
Assists: 204
Important trophies: 32
CLUBS IN WHICH ZLATAN IBRAHIMOVIC HAS PLAYED
Malmo
Ajax
Juventus
Inter
Barcelona
AC Milan (tres etapas)
PSG
Manchester United
LA Galaxy
JOAQUIN (41 YEARS OLD)
A cult hero of Spanish football, Joaquín enjoyed an incredible career and won the hearts of many. He entered the Real Betis Academy in 1997, and now holds the record for games played with Betis, with 521 games.
He won the Copa del Rey with Betis in 2005, before continuing his career with another club. He then returned to Betis in 2015, where he won the Cup again in 2022.
JOAQUIN'S CAREER STATS
Games: 839
Goals: 112
Assists: 102
Important trophies: 3
CLUBS IN WHICH JOAQUÍN HAS PLAYED
Real Betis B
Real Betis (two stages)
Valencia
Málaga
Fiorentina
GARTEH BALE (33 YEARS OLD)
This news surprised and did not surprise at the same time. Gareth Bale is only 33 and was certainly still capable of performing at a decent level, but it was also clear that he had lost his passion for club football.
Despite his early retirement, Bale will go down in history as one of the greatest British footballers of all time.
GARETH BALE'S CAREER STATS
Games: 554
Goals 186
Assists: 137
Important trophies: 20
CLUBS WHERE GARETH BALE HAS PLAYED
Southampton
Tottenham (two stages)
Real Madrid
LAFC
MESUT OZIL (34 YEARS OLD)
Like Gareth Bale, this has been a withdrawal that has come sooner than we might have expected. Mesut Özil was an absolutely joyous footballer when he was in his prime, and he was one of the most technically gifted footballers of his generation.
He amply demonstrated it at Werder Bremen, at Real Madrid, and also during most of his time at Arsenal. Although the last few years of his career were nothing to write home about, most of the rest of his career was truly wonderful.
MESUT OZIL'S CAREER STATS
Games: 645
Goals 114
Assists: 222
Important trophies: 11
CLUBS IN WHICH MESUT OZIL HAS PLAYED
Schalke 04 II
Schalke 04
Werder Bremen
Real Madrid
Arsenal
Fenerbache
Estambul Basaksehir
BOJAN KRKICK (32 YEARS OLD)
Bojan Krkic is one of the hundreds of players from the Barcelona academy who have been designated as the "new Lionel Messi". He started with a special disadvantage since he also looked like Messi. His burst onto the Barcelona scene was incredible, but he later struggled in football at different clubs around the world (including Stoke City).
BOJAN'S CAREER STATS
Games: 451
Goals 93
Assists: 40
Important trophies: 14
CLUBS IN WHICH BOJAN HAS PLAYED
Barcelona B
Barcelona
Roma
Milan
Ajax
Stoke City
Mainz 05
Alavés
Montreal Impact
Vissel Kobe
EMMANUEL ADEBAYOR (39 YEARS OLD)
Nobody can say that Emmanuel Adebayor, one of the most controversial figures in Premier League history, was not a good player, at least when he was on the pitch. Everyone will remember when he scored a goal for Manchester City against his old club, Arsenal, and he ran to the other end of the pitch to celebrate in front of the Arsenal supporters.
Adebayor played for great teams during his career and is fondly remembered by many fans… except Arsenal, of course.
ADEBAYOR'S RACE STATS
Games: 593




Goals 207




Assists: 65




Important trophies: 1
CLUBS IN WHICH ADEBAYOR HAS PLAYED
Metz




Monaco




Arsenal




Manchester City




Real Madrid




Tottenham




Palacio de Cristal




Estambul Basaksehir




Kayserispor




Olimpia




Semassi