Italy defeats the Netherlands and takes third place in the Nations League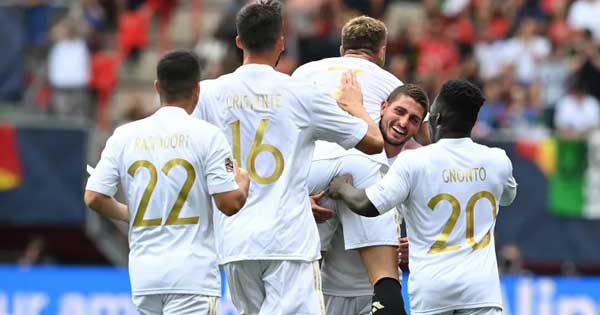 Italy and the Netherlands were at stake for third place in the UEFA Nations League at De Grolsch Veste and the Italian team retaliated after a tough elimination against Spain, sinking the morale of the host team.
After an almost perfect qualifying phase, the Dutch team is left without a podium in the Final Four of the Nations League and comes out on top in a match that Italy led from the start. The change of scheme proposed by Roberto Mancini to 4-3-3 worked and in the 6th minute, Dimarco gave the advantage to an Italian team that went for everything in the first half and left the game practically sentenced in the first 20 minutes.
The locals were still settling into the match when Frattesi made it 0-2 at minute 20′ and with this advantage, the game would go to halftime.
Ronald Koeman decided to drastically change his approach and made three changes at half-time, a movement that did help the team and that Bergwijn took advantage of to score 1-2 and close the gap. The Ajax player came out at the start of the second half and on 68′ closed the gap, although Italy refused to lose face in the game and Federico Chiesa once again increased the gap to two goals in minute 72′.
The Dutch saw time running out to give their team a third place in this competition since the Final Four is being played in the Netherlands, and when all seemed lost, Wijnaldum arrived to maintain hope with a goal on 89′. Still, the Dutch had woken up too late and even 9 added minutes were not enough.
The two teams were going through a very difficult moment and many doubts within the groups, and now Italy returns home glimpsing the light at the end of the tunnel and leaves the Netherlands completely sunk.