How much money has Manchester City managed to raise with their titles? And what about Manchester United and West Ham?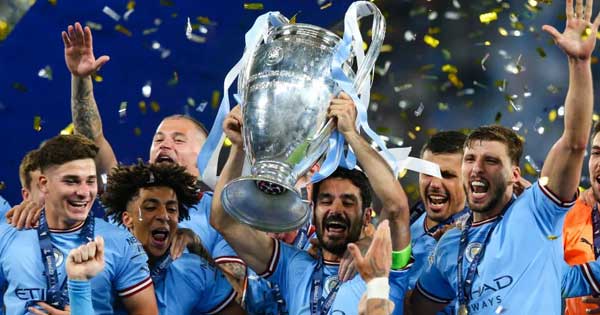 The television and economic distribution of the Premier League teams has been the subject of analysis and discussion in recent seasons. The English competition is characterized by its equality in the distribution of television rights, which has contributed to making it one of the most attractive and competitive leagues in the world.
Premier League
First of all, it is important to note that the television rights of the Premier League are negotiated for a total value of 8,136 million pounds every three years. Of this figure, 45% corresponds to the rights acquired in the United Kingdom, while the remaining 55% comes from other countries. Each team receives a base of £135.6 million per season, regardless of their position in the table.
In addition to this base amount, a bonus is awarded for the final position in the ranking. League champions Manchester City received £48m while bottom side Southampton got £2.4m. Likewise, clubs can negotiate additional rates with sports channels for the broadcast of their matches, with Manchester City generating the most revenue in this regard during the current season.
FA Cup
As for the specific competitions, in the FA Cup, all Premier League teams enter from the third round. Tournament champions Manchester City got nearly £4m, while those knocked out in the third round got just over £48,000.
Carabao Cup
In the Carabao Cup, prize money is smaller compared to the FA Cup. Tournament champions Manchester United received £205,100, while teams like Fulham, Arsenal, Chelsea, Tottenham, and West Ham received a minimal amount for their elimination in the third round.
Champions League
In the Champions League, teams receive awards for different goals, such as participating in the group stage, winning matches, or advancing through the knockout stages. Manchester City, Chelsea, Liverpool, and Tottenham are the four English teams that participated in this competition in the current season. Manchester City, as champions, earned 85.3 million pounds, followed by Chelsea with 56.1 million, Liverpool with 48.6 million, and Tottenham with 45.4 million.
Europa League
In the Europa League, prizes are distributed according to achievements, with English teams Manchester United and Arsenal getting £9.3 million and £7.7 million respectively, based on their performance in the tournament.
Conference League
Finally, in the Conference League, West Ham United was the only English team to participate and received 11.9 million pounds for being crowned champion.